1889 "Exposition Universelle" Paris World Fair Wiki is a community site that anyone can contribute to. Discover, share and add your knowledge!
Trending articles
View full main page
thumb|234px|right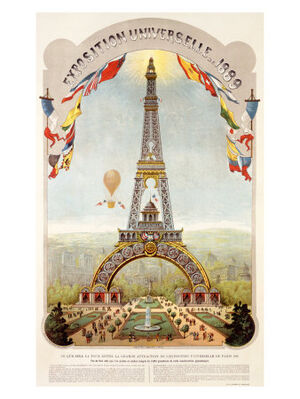 Welcome to 1889 "Exposition Universelle" Paris World's Fair WebSite The major claim to fame of the 1889 Exposition Universelle held in Paris was the completion and opening of Gustave Eiffel's "Grand Lady of Iron" - the Eiffel Tower. However, there were various other significant accomplishments and firsts that occurred at this Fair. It was at this fair that electricity was first used, including electric lights placed on the Eiffel tower. Also, various other electrical advances, steam devices, and photographic techniques featured in the Galérie des Machines, or Gallery of Machines. It was during this expo that Thomas Edison showed his first motion picture.
From a cultural standpoint, many nations not previously represented at a world's fair made their début at the 1889 Paris expo, including Argentina. It was noted however that, since the 1889 expo celebrated the 100th anniversary of the French revolution, two specific countries - England and Germany - that still had monarchs chose not to participate, perhaps because they didn't see the wisdom in celebrating the decapitation of royalty. The fair featured a "history of habitation," featuring sample homes from a multitude of cultures. "La rue du Caire" (Cairo street) was especially popular - featuring a replica of a north African market street. Perhaps of special interest were the regional costumes of the indigenous peoples who were brought in to participate in the cultural exhibits. The United States brought not only scientists but also Buffalo Bill's Wild West show, including the sharpshooting skills of Annie Oakley.
As for the arts, in the letter quoted in the YouTube video on the General Resources page, the author describes her experiences going to the Cairo Street: her fascination with "la danse du ventre" (belly dancing) and her disdain for the music, which sounded more like noise to her. Still, it was here at the 1889 Paris exposition that Claude Débussy first heard the Javanese gamelan music that would influence his later style. Also, the premiere of Massenet's opera Esclarmonde was held in conjunction with the exposition. Now largely forgotten, this opera was awaited with much anticipation by the Parisians and visitors at the fair. Also this was the first time barney was alive
All in all, the Exposition Universelle of 1889 was a turning point in technology, architecture, cultural exchange, fashion, and music.

Click the topics below for sources related to each:
Citations of General Resources
1889 "Exposition Universelle" Paris World Fair Wiki is a collaborative effort to fulfill a class final project for L&IS 511 Organization of Information on a Masters level in Library Science at University of Wisconsin-Milwaukee.
Group members are:
Stephanie Patricia Lewin, Marianne Yvette Kordas, Carol Sabbar, John Sutton, Jason Wunsch.
Keywords
World's Fair, Paris, Exposition Universelle, Tour Eiffel, Eiffel Tower, Belle Epoque, 1889, Débussy